Arbor Standard
Arbor Standard founder Bert Zhou invited to speak on Slush 2020 event
Bert Zhou - Founder and managing director of Arbor Standard was invited to Node by Slush live event on 17th November to present how Arbor Standard teamed up with Elisa and HUS in Finland to deliver 5G cloud XR solutions to the pressing sustainability challenges of the future.
Bert Zhou - Founder and managing director of Arbor Standard in Slush live webinar event
VR Healthcare Solution
In partnership with Elisa, Helsinki University Hospital (HUS) and OhmnLabs, Arbor Standard utilise 8K 360-degree real time live streaming hardware along with 5G cloud-based stitching technologies to help prevent Covid-19 transmission by reducing physical contact in the hospital in Finland.
Arbor Standard's XR solution: Remote video robot guided tours
The trends of 5G commercialisation, as well as the global pandemic in 2020, have accelerated digital transformation of industries around us. Arbor Standard provides one-stop 8K high resolution 360-dgree live streaming solution that captures and auto-optimises 360° video in the hospital via 5G network in Finland. The real-time 360° video is then stitched and streamed on cloud, allowing doctors in different locations for safe and responsive remote medical diagnostics. Equipped with the mobility of on-site robots, this solution has been tested in HUS Finland to support medical workers during this hard time of Covid-19.
Arbor Standard's XR solution: Remote video robot guided tours
"The pandemic taught us something we did not realise before: We can work together without being together. We can be separated yet be united. To do so, all we need is see and hear. The better we can do that - the better we can work together. We at Arbor have made it our mission to help seeing better, seeing different. We take initiatives to provide a one-stop cloud XR solution for a more economic and efficient immersive digital transformation", says Bert.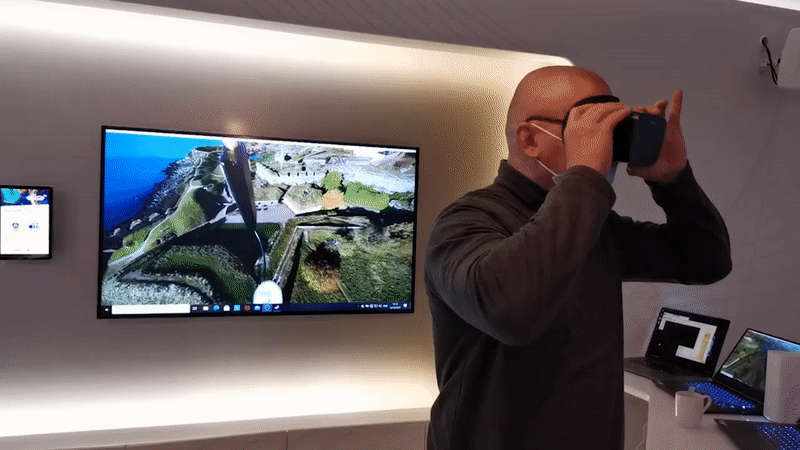 Arbor Standard's 360-degree live streaming solution with 5G remotly operated tractor
Arbor Standard's VR live streaming solution upgrades 2D live streaming to a 360-degree environment, with richer content and lower information transmission loss. "Not only we can have real time information, but be free to look around just like being at the place in person", says Bert, "With Arbor's 360° live streaming solution, we can then put text, photos, videos, and 2D live streams inside of the virtual space. Even invisible things, like temperature and humidity, we can see the numbers and control the devices inside with our vrIoT system."
Arbor Standard's 360-degree live streams with live chat room
Arbor Standard's 360-degree live streaming solution with IoT system
More information
Slush is the world's leading startup event & community. Slush has grown from a single gathering in Helsinki to a series of events organized all around the world. We throw bigger events in Finland, and China, and smaller get-togethers around the globe, from Singapore to NYC.
Slush is built to be a vehicle for change. Around the world, movements that want to drive entrepreneurship and empower the upcoming generation can start under the Slush name. Currently, Slush events and communities have been started, in addition to Helsinki and Shanghai, in Tokyo, Singapore, London, Berlin, Stockholm, Paris, New York, Trondheim, and more than 40 other cities.
Now watch Arbor Standard's pitch presentation about our 360 live streaming solution in Slush live event held in 17 November 2020:
To watch the full event replay (25:20-37:14), please visit and register in: https://elisa.videosync.fi/sustainable-future-accelerator.
More News Post
New Product Release: Geneinno T1 Pro
Arbor Standard X SKT gallery launched Interactive Virtual Art Exhibition
About Arbor Standard
Arbor Standard has received many honours in the past, such as "Ones To Watch 2020" named by the Creative Industries Council in the UK, and the Red Dot Product Design Award 2020, etc. Arbor Standard (Arborstandard.com) is dedicated to providing one-stop 5G Cloud XR solutions to the global market by integrating leading technologies and market insights. Our business functions cover industrial solution development, product distribution and content creation. With the Hardware + Software + Content approach, we create a range of industry solutions to empower our clients' businesses with immersive technology in the 5G era.
To learn more about our 5G Cloud XR solutions, please visit: https://www.arborstandard.com/solutions
Contact us
Tel: +44 203 959 8315 (UK) / +86 755 2640 2920 (CN)
Email: hello@arborstandard.com
Website: Arborstandard.com
London Office: 107 Fleet Street, London, EC4A 2AB UK
Shenzhen Office: 7/F Area B Konka R&D Building, 28 Keji South 12th Road, Shenzhen, CHINA
Chengdu Office: 1/F 129 Yingbin 2nd Road, Anren, Chengdu, CHINA
Hong Kong Office: 5/F Wayson Commercial Building, 28 Connaught Road West, HK