Arbor Standard
RestART the Planet Virtual Exhibition is now online
Arbor Standard are proud to present our new virtual exhibition "restART the planet" in collaboration with SKT Gallery and WhereFromUK. The theme of the exhibition was inspired by our ideas to connect sustainably-minded brands with sustainably-minded consumers. With the "RestART the Planet" Virtual Exhibition accessible online, we aim to help promote artists in a creative and carbon-free way.
RestART the Planet virtual exhibition
Time: 27th November - 5th January
Organiser: Arbor Standard X SKT gallery X WhereFromUK
Powered by: Arbor3D®
Click and Enter the Virtual Exhibition
Click and Enter the Virtual Exhibition
Reduce carbon footprint
A new genre of audio-visual experience, Virtual Reality (VR) is now proven to be very useful to climate change and sustainable development communications. VR virtual exhibitions powered by Arbor Stanadard can use 360° panoramic and 3D environment to produce a seemingly physical or real experience of that environment for users. There are a number of reasons VR exhibition is a promising option for helping artists to advocate the need for climate action, the primary one being how it can create an immersive, almost physical experience.
WhereFrom and TreeSisters combine four of today's big ticket issues: gender, climate, behaviour change, and ecological restoration through large-scale tropical reforestation. WhereFromUK are unique in their grass roots, ethical and holistic approach, their call to include and involve everyone, and their focus on a wider cultural shift that embeds restoration into everything. SKT wants to do our part to become more sustainable and reduce our carbon emission, but also believes that artists hold some of the answers to helping the climate crisis. "The art community is the creative heartbeat of our country. Its voice has, throughout history, been a powerful one in driving meaningful social change," says Adam (WhereFromUK founder) "Artists are joining the global conversation around climate change by using their work to send a powerful message to audiences. Their work forces the public to confront the impact humans have had on the Planet." Welcome to "restART the planet".
Shortlisted artists: Bhavya Dixit, Crann' Piorr Art, Diane Rolnick, Elisabeth Szwarc, Emma-Louise Grady, Errika Pontevichi, Giovanni Merola, Harriet Parr, Jesicca Kuok, June Jaewon Lee, Kasey Roberts, Kelsey Rath, Leonie Von Geyr, Luvensky
Valmont, Marcel Albert, Maria Vasileva, Michelle Louise Jones, Pia Bandit, Reinhard Simon, Scifier, Sevda Uykan, Skiddy The Creator, Véronique Wibaux, Xavier Bellante.
Let's have a look at what you could expect from the virtual exhibition:
Abor3D® Interactive Virtual Art Exhibition: Arbor Standard have developed Arbor3D® - the first 360° virutal content creation toolkit in the UK - to create a digital twin of art gallery soace, at the same time, over 100 interactive features can be applied to the virtual space, offering an interactive and immersive browsing experience that builds on what you'd get in person and makes for one of the impressive virutal art exhibition tours around.
The 360-degree movable panoramas provided by Arbor3D® allow you to approximate walking through the many artwork. You can easily browse it to the virtual exhibition with your laptop, tablet, smartphone, or VR goggles and headset, if you have them. With 360° views you won't have to stretch your imagination too much to think you're actually there!
Pop-up details of artwork (Invisible information hotspots):
Select individual artworks to open pop-up boxes with detailed descriptions, images, videos and audio guide explanations. Zoom in and view the artwork in full screen.
Immersive exploring tour:
Follow the arrow guides on the floor, skip from points to points, and jump to the area where you can be closer to your favourite artwork, or go back to the floorplan navigation to keep exploring. Let your fingers do the walking, navigate through the space, check the great artwork and hear the audio guides in our virtual exhibition!
Click on individual artworks, and directly contact the gallery or artist for purchase. You would not be charged for the entry or website commission!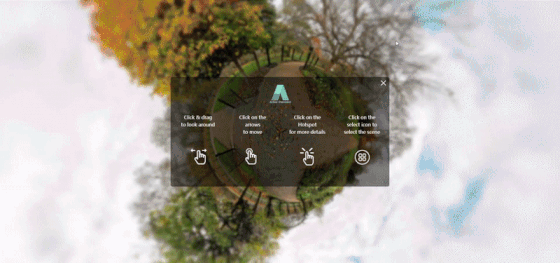 The virtual exhibition is a great opportunity to enable artists and galleries to come together to showcase their artwork virtually to ensure themselves are supported during the pandemic, while allowing gallery audiences to access art in an innovative and refreshing way.
From 27th November, you will be able to view the virtual exhibition. Artwork from 24 artists will be for sale. Now sign up to our email newsletters and get the latest notifications of its release: https://www.arborstandard.com/art
About Arbor Standard
Arbor Standard has received many honours in the past, such as "Ones To Watch 2020" named by the Creative Industries Council in the UK, and the Red Dot Product Design Award 2020, etc. Arbor Standard (Arborstandard.com) is dedicated to providing one-stop 5G Cloud XR solutions to the global market by integrating leading technologies and market insights. Our business functions cover industrial solution development, product distribution and content creation. With the Hardware + Software + Content approach, we create a range of industry solutions to empower our clients' businesses with immersive technology in the 5G era.
To learn more about our 5G Cloud XR solutions, please visit: https://www.arborstandard.com/solutions
Contact us
Tel: +44 203 959 8315 (UK) / +86 755 2640 2920 (CN)
Email: hello@arborstandard.com
Website: Arborstandard.com
London Office: 107 Fleet Street, London, EC4A 2AB UK
Shenzhen Office: 7/F Area B Konka R&D Building, 28 Keji South 12th Road, Shenzhen, CHINA
Chengdu Office: 1/F 129 Yingbin 2nd Road, Anren, Chengdu, CHINA
Hong Kong Office: 5/F Wayson Commercial Building, 28 Connaught Road West, HK